Urban mobility and the transition towards a more circular, virtuous and sustainable economy are two of the priorities within the Brussels government. With the masterplan 2040, the Port's objective is to develop new types of traffic and drastically reduce road transport. 
The Port of Brussels plays an important role in sustainable development and supporting the climate transition. It was the first Belgian port to obtain the CO2 Neutral label (2017), has achieved 3 stars in the Eco-dynamic Business label (2019) and has been a member of the Belgian Alliance for Climate Action since 1 January 2021. In our efforts to find sustainable solutions for Brussels, we work tirelessly to improve our environmental performance in all areas:
Water and the aquatic environment
The protection and control of the quality of the canal's water are at the forefront of our activities, in collaboration with Brussels Environment. We study suspicious phenomena and tackle health risks. We also make every effort to minimise discharges into the canal and to reduce our water consumption. In addition, the Port works continuously to inform and raise awareness among the general public with regard to keeping the canal clean.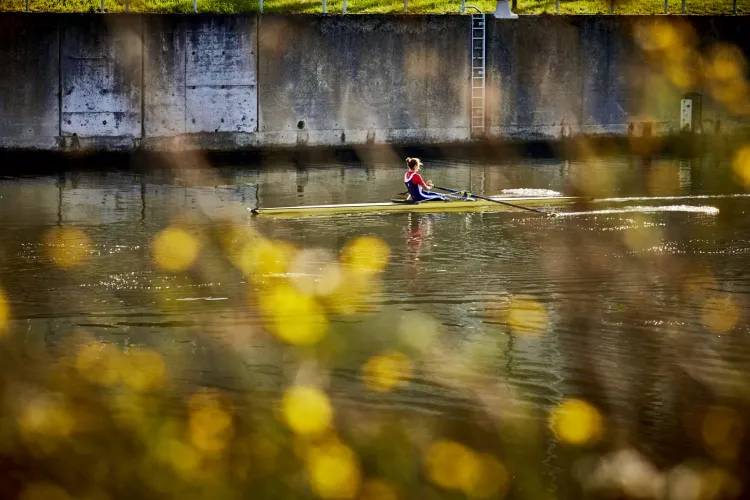 With nearly 7 million tons of goods transported by water in 2020, the Port has saved 96,000 tons of CO2 (2,000 fewer lorries per day on the streets of Brussels!). We encourage developers and contractors to choose the canal for their goods flows, rather than the road, by offering free analysis by a transport and logistics expert.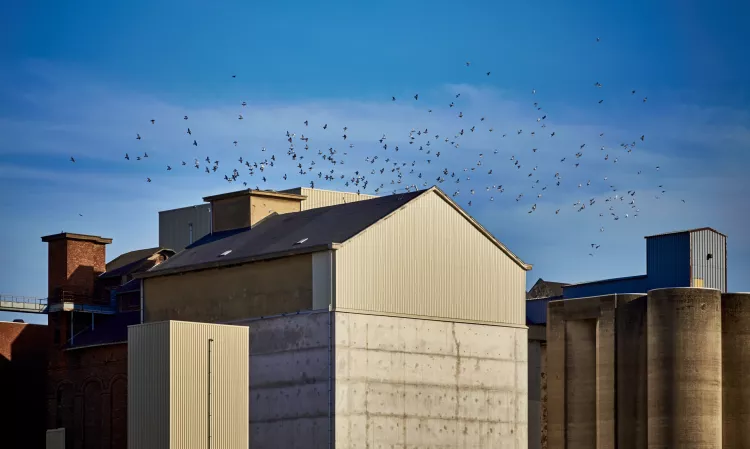 We offset our emissions (335 tons of CO2 in 2019), by participating in the "Uganda save water" project, which earned us the title of the first Belgian port to receive the CO2-neutral Label. At the same time, we have launched a campaign to insulate and renovate our buildings, developed teleworking, made our employees aware of eco-friendly actions... In 2020, the Port of Brussels appointed its Climate Expert to raise awareness among port companies and support them in their carbon transition. Since 2020, all those signing our new concession contracts have been obliged to become CO2 neutral.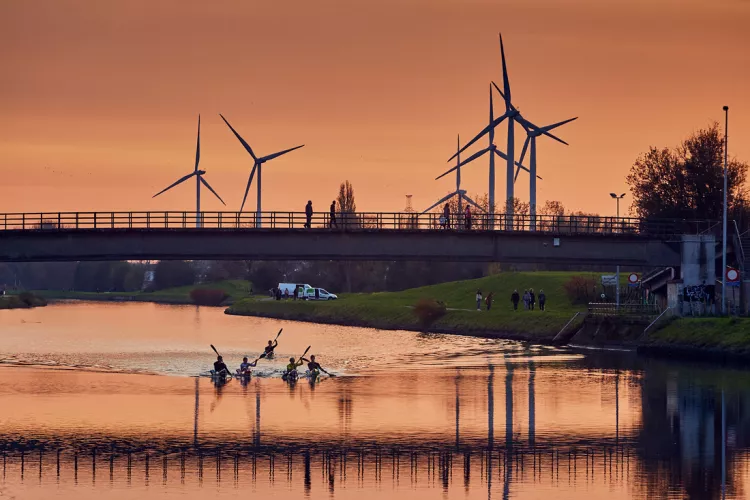 The Port of Brussels runs entirely on green electricity. However, we wanted to go even further with photovoltaics. Thanks to 13,000 solar panels on the roofs of the port area, we produce 104.87 MWh/year, equivalent to the consumption of 52 households. 
The green spaces that we manage on a daily basis include 60,000 m² of banks, 1,200 m² of lawn, 1,600 m of hedges, around 180 trees, 1,700 m² of flower beds… and we do this without using chemical pesticides and weedkillers! The Port of Brussels has also created a flower meadow and a green wall at Molenbeek lock. The regreening of the banks has been accelerated, with floating artificial islands that will soon nurture fauna and flora, while improving the quality of the water.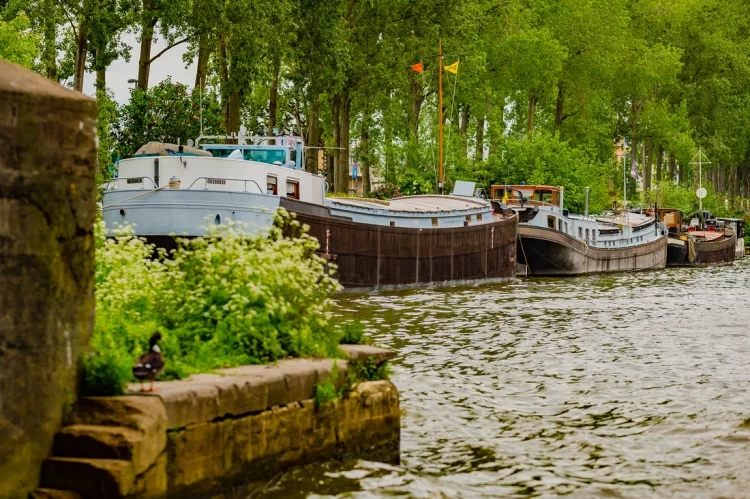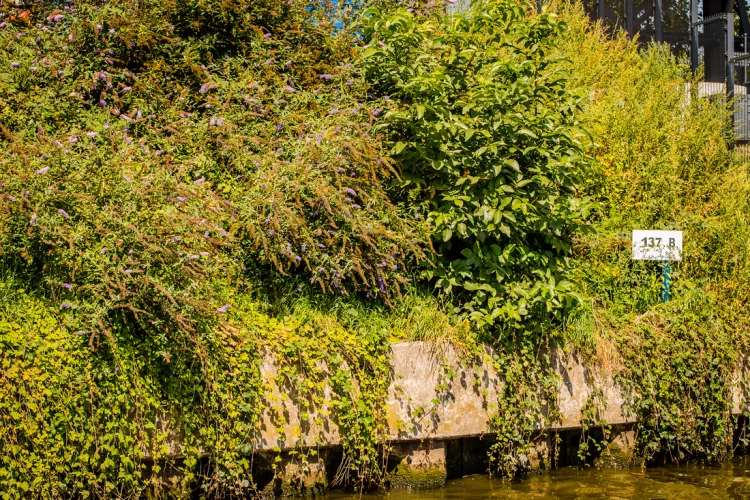 The canal acts as an ecological corridor, allowing animal and plant species to move from one green area to another, along the waterway. In addition to biodiversity, the replanting of the canal helps to combat heat islands, improves water quality and brightens up the view for locals. We have also launched a nest box installation programme to accommodate species that have become rare or have disappeared from Brussels. This is why bank swallows returned to the port in 2021.
Every year, 40 000 m3 of sludge is dredged and 200 m3 of rubbish removed by our maintenance boats, Castor and Botia. Our waste prevention activity and improvements in management have earned us 3 stars in the Eco-dynamic Label (2019), a label that we have since enforced for any new concession contract. In our desire to transition to a circular economy, we examine the projects and activities presented to us based on relevant evaluation criteria.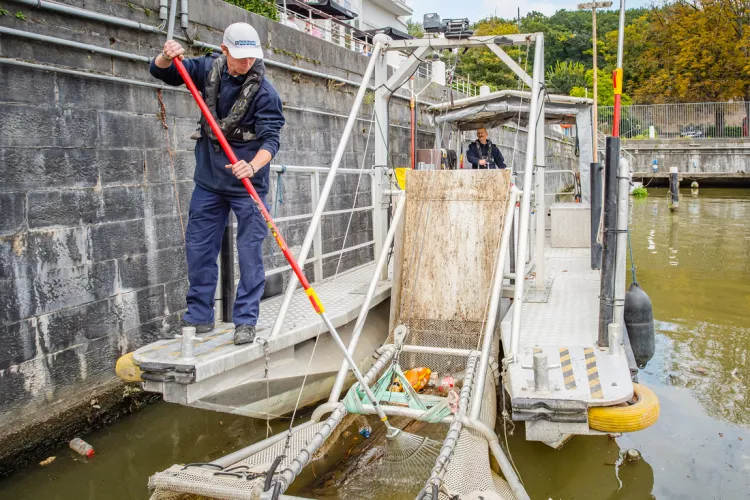 As the owner of a port area of 107 ha, the Port of Brussels plays a triple role in soil decontamination, carrying out the necessary remediation work and ensuring that concessionaires comply with obligations in terms of extraction, transport and land treatment.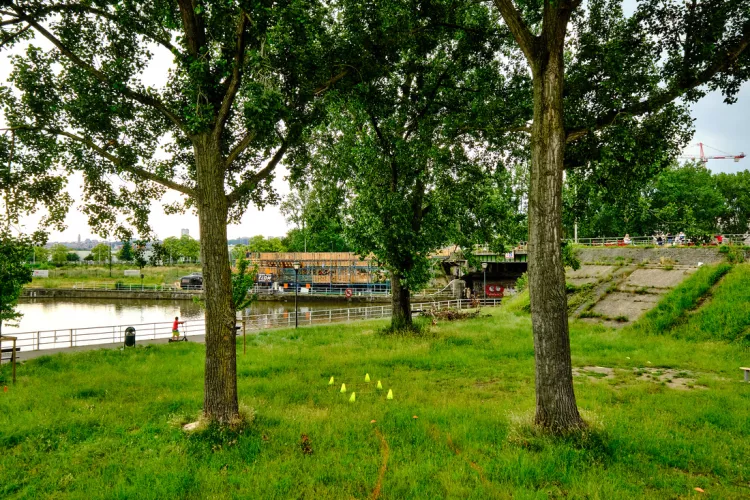 Environment and quality of life
Improving the quality of life is an essential element in our environmental activity. Lots of water has flowed under our bridges since our very first effort, the famous Bruxelles-les-Bains. Themed cruises, bike paths, residential houseboats, water sports, Waterbus, skate park, FLOW open-air swimming pool... we have upped the initiatives to improve the urban integration of the Port of Brussels. And we're not finished yet!