With its renovated industrial heritage, the port district is a treat if you're into sustainability, and also if you love a party and nature!  
Come and enjoy water sports, organic shopping, pleasant terraces and restaurants, art galleries, museums and temporary exhibitions, green spaces, but also afterworks and underground evenings, all year round!
There is always something going on at the Port of Brussels. Discover the main activities on our interactive map!
Drop anchor at the Port of Brussels
Metro
26
Stops: Comte de Flandre, Yser.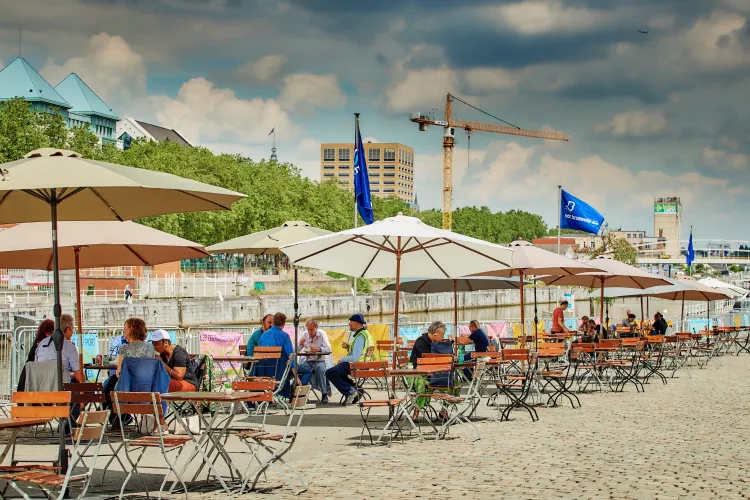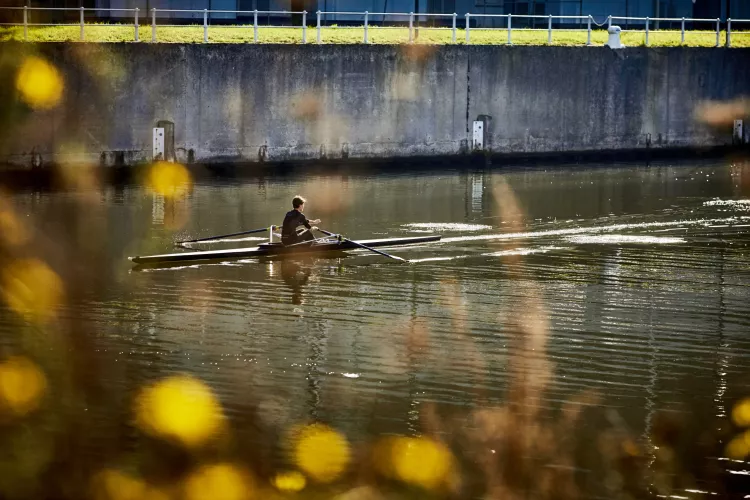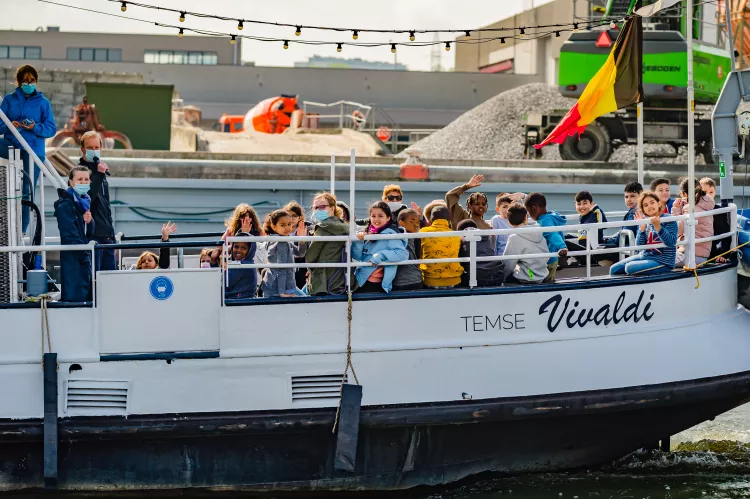 Activités sportives : il se passe toujours quelque chose au Port de Bruxelles
De manière assez logique, le Port et ses installations accueillent beaucoup d'associations sportives et récréatives dont les activités ont une thématique aquatique. Que ce soient les nombreux clubs d'aviron, de voile ou de canoé, mais aussi les Scouts Marins de Bruxelles, une section un peu particulière des Scouts Baden-Powell de Belgique. A propos d'aviron, avez-vous lu la passionnante interview croisée de Caitlin Govaert, notre rameuse olympique, et Olivier Olbregts, président et entraîneur de l'Union Nautique de Bruxelles ?
Il y en a vraiment pour tous les goûts : connaissez-vous par exemple le Corps Royal des Cadets de Marine ? Ce mouvement de jeunesse nautique propose de vivre des aventures sur l'eau à partir de 9 ans. L'idéal pour tout apprendre sur les bateaux, la voile, la navigation, la fabrication des nœuds, la lecture d'une carte et d'une boussole, la sécurité, les premiers secours... 
Et lorsqu'on peut combiner activité aquatique avec un geste écologique, c'est évidemment génial. C'est ce que propose Canal It Up, qui organise des activités de kayak où des volontaires partent chaque semaine à la pêche aux déchets qui flottent sur le canal.
Enfin, si vous n'avez pas envie de vous dépenser physiquement mais simplement de profiter et de chiller, saviez-vous que des excursions (en groupes ou individuelles) sont organisées toute l'année sur le canal, qui combinent navigation, promenade et visite guidée ?
Vous le voyez, le Port de Bruxelles héberge énormément d'activités sportives et récréatives. Retrouvez ci-dessous des associations qui sont actives sur le canal et ses berges.
Recreational places and activities
Club
Activity
Location
When?

RSNB
Royal Sport Nautique de Bruxelles
(Mr. Michel Geismar)

Rowing

Avant-Port (left bank) Chaussée de Vilvoorde, 170
1120 Bruxelles

Thursday Saturday
Sunday

UNB
Union Nautique de Bruxelles
(Mr. Olivier Olbregts)

Rowing

Avant-Port (left bank) Chaussée de Vilvoorde, 172 1120 BRUSSELS

Saturday Sunday
Tuesday
Wednesday (March-Oct)

75th Sea Scouts 
(Mme Sandrine Grosjean)

Rowing/Sailing/Scouting

Avant-Port (left bank) BRYC, Nautical Centre Quai de Heembeek, 4
1120 Bruxelles

Sunday

140ste FOS Seascouts Roodbaard
(Mr. Linus Nyssen)

Rowing
Canoeing
Sailing
Trekking
Swimming

Avant-Port (left bank) BRYC, Nautical Centre Quai de Heembeek, 4 
1120 Bruxelles

Sunday

Marine Cadets
(Mr. Jean-Louis Lion)

Commandeering/Water sports

Avant-Port (left bank) BRYC, Nautical Centre Quai de Heembeek, 4 
1120 Bruxelles

Sunday

BRYC
Sailing School
(Mrs Mady Faubert)

Sailing School

Avant-Port (left bank) BRYC
Chaussée de Vilvoorde, 1
1120 Bruxelles

WE/School holidays

Bruxelles Royal Yacht Club
(Mr. Michel Clauwaert)

Pleasure sailing

Avant-Port (left bank) BRYC
Chaussée de Vilvoorde, 1
1120 Bruxelles

Continuous

SNUB
Société Nautique
University of Brussels
(Mme Caroline Fabry)

Rowing

Mabru/De Trooz (right bank)
Quai des Usines, 20
1000 Bruxelles

 

Canal It Up
(Mr. Pieter Elsen)

Kayak (waste)
canalitup@outlook.be

Beco
(right bank)

Continuous

(variable)

Brussels by Water
(Mr. André Moens)

Excursions Events

Beco (right bank)
Quai des Péniches, 2bis
1000 Bruxelles

Continuous (on call)

CRB
Cercle des Régates de Bruxelles
(Mr. Quentin Van Buylaere)

Rowing

Anderlecht (left bank) 
Quai de Veeweyde, 65
1070 Anderlecht

Saturday Sunday

CRBK
Cercle des Régates de Bruxelles Kayak
(Mr. Paul Vanneste)

Kayak

Anderlecht (left bank) 
Rue des Grives, 53
1070 Anderlecht

Saturday Sunday